Yosemite Webcams
The first webcam was put into use for a matter of utmost importance — coffee. Yes, it was the hard-working researchers at Cambridge University who, in 1991, installed a remote camera to monitor their coffee pot thus insuring no fruitless trips to the break room. Priorities, right? Well, our virtual gaze has come a long way. From weather forecasting to wildlife protection to simply chatting with friends and family on FaceTime, the webcam's applications have become far-ranging. And when it comes to travel, these mini-spectators provide an invaluable window into worlds we yearn to explore.
While there is no substitute for feeling the mist from Yosemite Falls kiss your face or watching the moon rise over Half Dome, while there's no stand-in for scrambling up Lembert Dome or being engulfed by wildflowers while strolling the Hite Cove Trail – the more you can see of Yosemite Mariposa County, the more you'll want to come. So here they are. A compendium of killer views ranging from spartan to sublime with one purpose and one purpose only — to inspire your next unforgettable visit.
Additional Information
Because these webcams are operated by different organizations, the refresh rate may vary. Try clicking refresh to update the webcam view. If the view is black, please note that it may be nighttime.
Half Dome Webcam
With its powerful, sheer face backed by a near-perfect rounded form, standing before Half Dome is almost like consulting some ancient, hooded God. This Yosemite icon rises more than 4,737 ft (1,444 m) above the valley floor and can be summited (with permit) using the Cable Route. This shot is taken from the Ahwahnee Meadow just east of Yosemite Village. Bonus points for spotting wildlife scampering into view!
Provided by the Yosemite Conservancy – a non-profit partner of the park that provides grants for important park projects.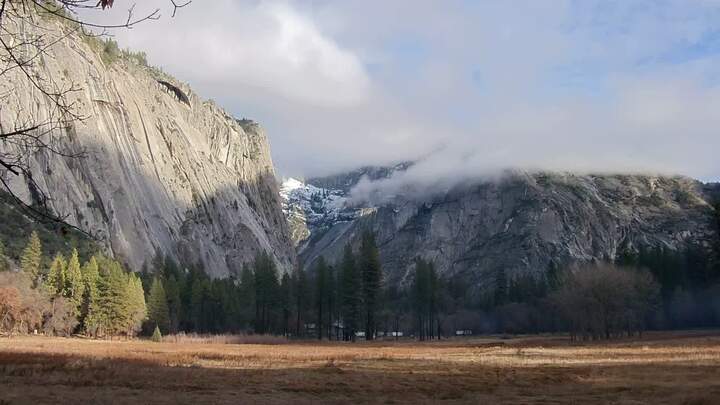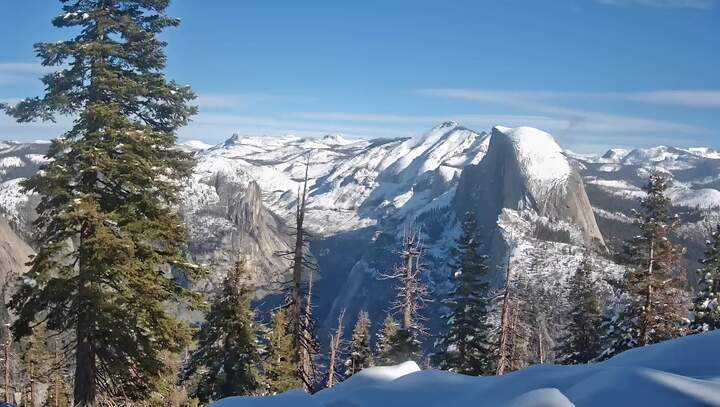 High Sierra Webcam
Rising 8,127 feet (2,477 m), the aptly-named Sentinel Dome stands guard over the Yosemite high country with 360 degrees of pure clarity. This view is hard to beat: Half Dome posing boldly in the foreground, Cloud's Rest whispering over her shoulder; the peaks — Tenaya, Tressider, Echo and Fletcher just to name a few — standing proudly in the back row like some all-geology team photo. If you want to come enjoy this view in-person the hike is 2.2 miles (3.5 km) round-trip with a modest elevation gain of approximately 400 feet (122 m).High Sierra (View from Sentinel Dome)
Provided by the Yosemite Conservancy – a non-profit partner of the park that provides grants for important park projects.
Yosemite Falls Webcam
The tallest waterfall in North America, majestic Yosemite Falls (2,424 feet) is the focal point of the Park's natural beauty. Fed by snowmelt, the gentle flow becomes a torrent in spring before peaking early summer. Come meditate on the footbridge at the base of the falls, position your tripod to capture a moonbow or lace up your boots and hike to the top. So much to do!
Provided by the Yosemite Conservancy – a non-profit partner of the park that provides grants for important park projects.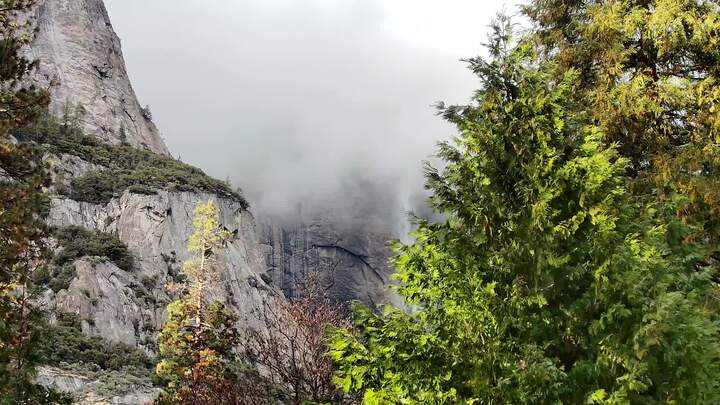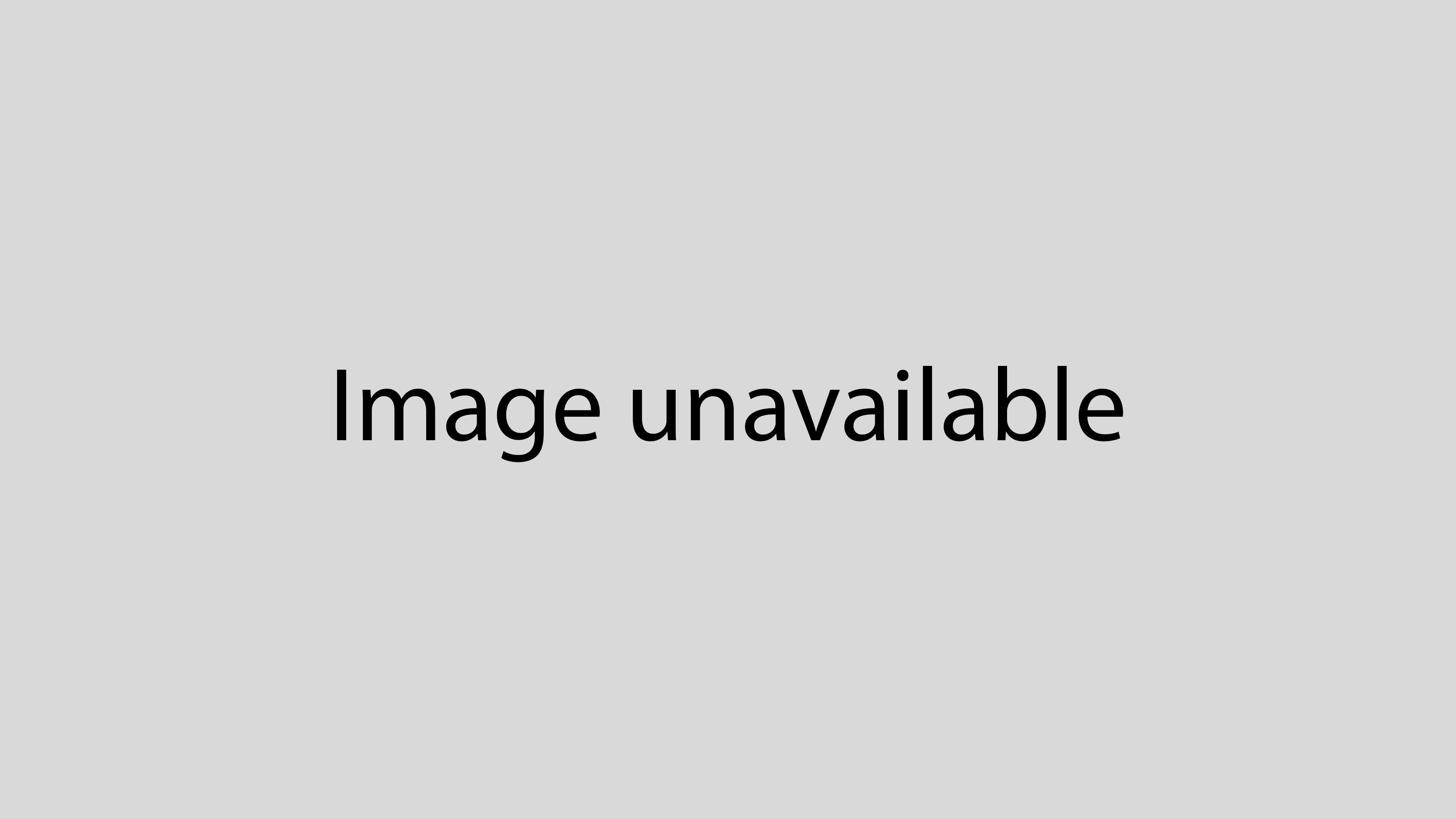 Turtleback Dome Webcam
A stone's throw from Yosemite Valley, Turtleback Dome sits at 5,280 feet (1,620 m) offers a lesser-known yet equally beautiful view westward to where the mountains give way to the Sierra foothills. Unbeatable after a storm when clouds roll through the Merced River Canyon or at sunset when the golden switch is flipped! The webcam provides a current weather/air quality feature to help plan ahead. If you'd like to hike to the source of this view, the 1.2 mile r/t trail gains just under 400 feet and follows a graded service road.
Provided by the National Park Service.
Badger Pass Ski Area Webcam
Opened in 1935, family-friendly Badger Pass Ski and Snowboard Area runs five lifts from its Yosemite National Park location. The runs are spacious, the powder tasty, and in addition to the downhill skiing there are world-class cross-country skiing, tubing and snowshoeing opportunities. Check out the snowpack via the webcam then come on up for a day on the slopes or maybe just a hot drink in the Snowflake Room of the Badger Pass Day Lodge!
Provided by Yosemite Hospitality.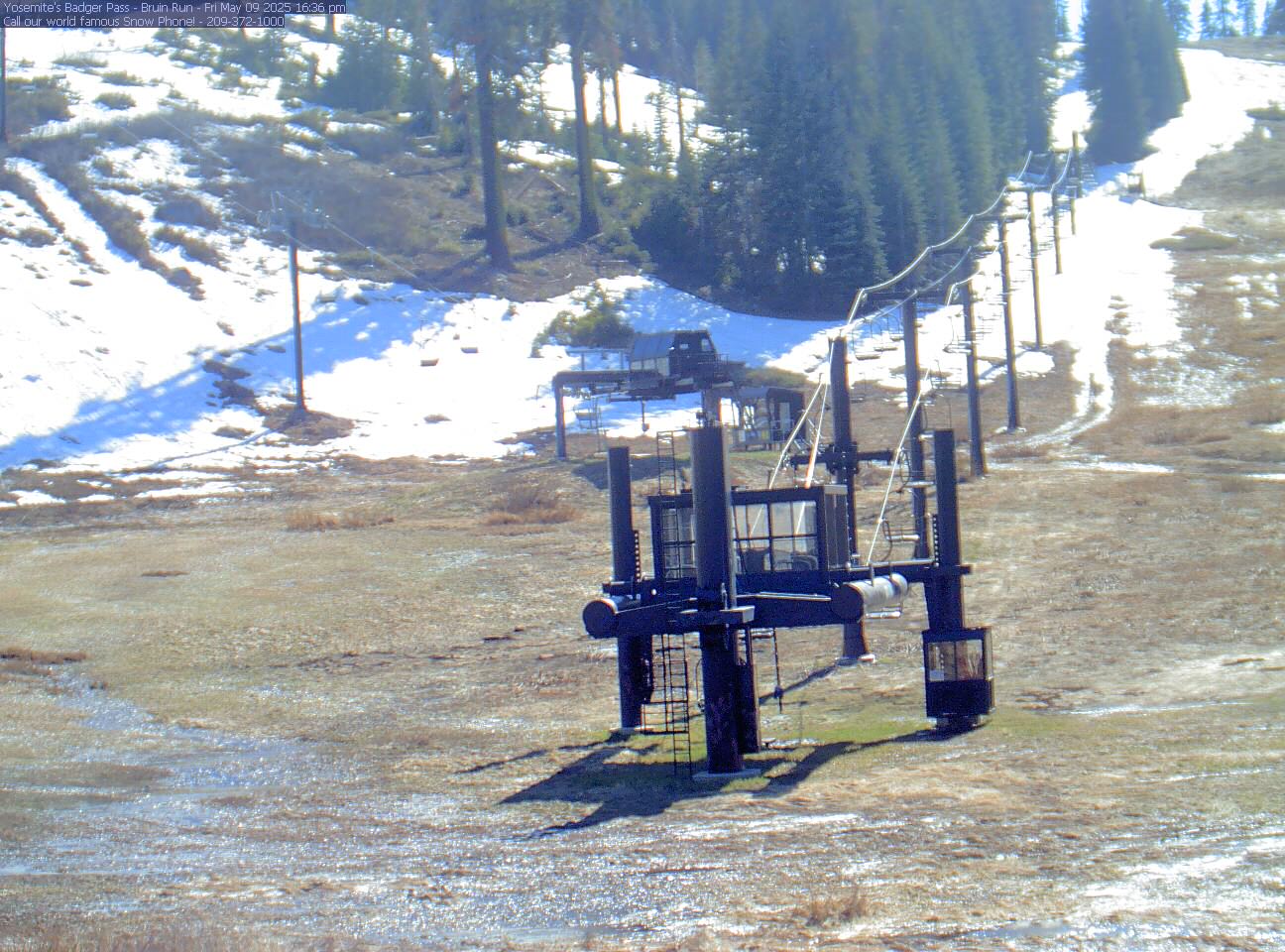 Merced River Webcam at Happy Isles
It's all about the flow with this webcam. Operated by the U.S. Geological Survey since 1915, the Happy Isles gaging station monitors conditions on the Merced River providing valuable data on floods during peak snowmelt and continuous, real-time output. Located in Yosemite Valley near the trailhead for the Mist Trail, bring your waterproof shell and do some waterfall hopping while you're at it!
Provided by the US Geological Survey.
Tenaya Lodge at Yosemite Webcam
Nestled in the woods just two miles from Yosemite's South Gate, this organically modern all-season resort offers rooms, suites and cabins, not to mention a full bar named for a mythological varmint, the Ascent Spa and a Tesla charging station. The view from this webcam is over the Tenaya's roof northwest towards the town of Fish Camp (hidden by the pines). Bring the family for a guided nature hike, the nightly Dive-In Movies poolside or just a place to relax in comfort after a full day of exploring Yosemite National Park.
Provided by Tenaya Lodge at Yosemite.
Big Creek Meadow Webcam
Located at 5,000 feet (1,524 m) just two miles south of Yosemite National Park, the Big Creek Inn offers privacy and the peaceful sounds of year-round Big Creek. The deck is perfect for viewing the boundless night sky of Mariposa County or watching wildlife in Big Creek Meadow.
Provided by Big Creek Inn.
Tuolumne Meadows Webcam
Operated by the Tuolumne Meadows Store, this seasonal webcam (approximately June through September) looks west towards Fairview Dome. John Muir called this prominent bubble of granite "one of the most striking and best-preserved of the domes" in Yosemite. At 9,728 feet (2,965 m), Fairview Dome sits about 4 miles west of the high-country hub Tuolumne Meadows, a popular launching point for numerous hikes of varying distance and difficulty.
(Note: this webcam was inactive during the 2020 season.)
Provided by Yosemite Hospitality